Klinic's Manitoba Farm, Rural and Northern Support Services (MFRNSS) was chosen as the RMWF 'non-profit of the day' on the Saturday I am there.   This is no small gift as obtaining a trade show stall at these types of events is often extremely cost prohibitive for non-profits, and with this support, we can enjoy a presence and some built in marketing through RMWF.
MFRNSS provides telephone and on-line counselling to farmers, rural and northern Manitobans. We also offer public education, a volunteer training program, and a monthly  Suicide Bereavement Support group. The  MFRNSS houses a Rural  Mental Health Resource Centre with books, videos and articles related to rural, northern, Indigenous,  and agricultural  mental health. (MFRNSS website)
The "Farm Line", as we often affectionately call it, operates in partnership with Klinic's other phone lines supporting Winnipeg-based services like the Manitoba Suicide Prevention and Support Line and the Klinic Crisis Line during specific hours.  Over the last 5 years, call volumes for the MFRNSS average about 1200 a year. Recently we launched a crisis chat service that is available to folks during certain hours. Our hope is to grow our online crisis support services; however, chat can be more labour intensive and requires new resources.  I am often asked what people may call about, or what are the predominant issues facing rural individuals and families.  Though not that different from those in Winnipeg, there are certainly some specifics stresses to life in rural areas, which is why all of our staff and volunteers in the program must have a farm and/or rural background.
I am also asked how we reach folks to share the services we offer; this is a challenge that many non-profits face.  Very little funding is provided for marketing of services in most programs, and this can be particularly challenging for rural and northern programs where you are trying to reach a vast area of often isolated individuals and communities.  Hence, the RMWF and other events like Ag days, that attract people living in outlying rural areas, are key venues to advertise our services when it is not cost prohibitive.  In fact, elements of guerilla type marketing are often the non-profit method of choice, as it can be lower cost and provide real opportunities for engagement;-it can be quite resource intensive though. Luckily, at MFRNSS we have a larger family of casual staff that assist our core in doing just this.
In attendance today is a long-time MFRNSS team member Leanne: when I show up at the booth, she tells me that she will be there until 1pm when a casual staff team member named Mary will spell her off.  The booth is located on the upper concourse and has become a pretty popular place given a key component of our strategy here is offering free chair massages from Robertson College massage students.  This is a great example of partnerships that can support and promote both organizations.  When I drop by it is a half an hour wait for a massage.  I admit I am a little later than I thought I would be as I was delayed on the lower concourse by some important business….
My colleague (Mike Kelly from MFL Occupational Health Centre) and I are able to catch up with Leanne and take in a bit more of the sites before we settle in for our free chair massage.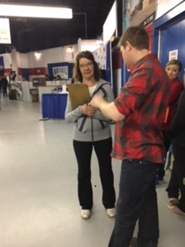 I have to agree this does seem like an optimal way to get people to take a few moments to think about stress reduction. This is particularly evident as I listen to Leanne bring in a young mom with a stroller filled with twin toddlers and stuffed animals.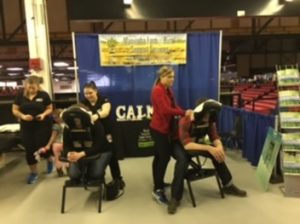 The team will provide massages to approximately 50 people today that who along with others stopping by, will leave with contact cards for the line and instructions on how to access our free stress management app and website. Calm in the Storm is a great resource for anyone living rural or remotely, as all it requires is a phone or computer with internet access.
As I drive home, I am watching the water in the river and on the fields and thinking about the year that brought the MFRNSS into life, one that few of us in Manitoba can forget.  The farm line was born out of the stress, devastation and grief caused by the 1997 flood in the Red River Valley.  I am grateful that the original apprehensions for wide- spread flooding this year seem to be dissipating (though by no means in all areas), which is palpable in the celebratory tone of this year's fair.  It reminds me of the incredible resilience that is necessary to live a rural life, the critical role of the farm in our world and economy, and the importance of our small part in providing support to these folks when they need it the most.
For more reading, check out this great recent article in Better Farming on mental health on the farm which features our MFRNSS.