In just over two weeks, I will celebrate the close of my third year in my role with Klinic and SERC; around the same time, I will also close out my first decade as an Executive Director.  I've noticed that I've been feeling very reflective lately- perhaps it is these milestones, perhaps it is just what comes when seasons change or perhaps it comes with being present during a time of a lot of change.
Over the past six months in Manitoba, we have experienced significant changes to our healthcare system.  In addition, our organizations have planned and implemented many of our own changes in the hopes of being responsive and ensuring Klinic and SERC continue to thrive and meet community needs.
I have written about change before, and I imagine I will again- it is a hallmark of our times. Change can be a challenging thing for organizations, and the people who make them great, to manage.  Sometimes there are moments in change that, if you are lucky, you may be able to stop and reflect on the why and how humans working together can make or break positive change.
I had one of these moments this week, a week that was not the easiest. September tends to hit with the force of a small squall, I imagine for many, myself included.   In the midst of that, we held a staff retreat for our team at SERC and Teen Talk. Over the summer, these teams experienced a substantial change with the organizational restructuring to have Teen Talk move from a program at Klinic to join SERC.  This one decision may sound small to the outside, but is monumental for the teams impacted, considering Teen Talk's history with Klinic (though an interesting side note-the program began to develop 20 years ago at Planned Parenthood Manitoba, which today is SERC). This change comes with new workplaces, colleagues and organizational identity.
With this in mind, the new team of SERC and Teen Talk came together at Fort Gibraltar this past week, to both team build, and plan, how we will use this new relationship to expand on our programming and leverage our shared work areas.  We approached the time with a commitment, as our facilitator put it, to 'start with fun, and build from there'.
Honestly, I cannot recall the last time I had quite this much fun at work, though I admit Klinic and SERC are fun places to be. I won't go through all our activities, but I will share the following uniquely SERC/Teen Talk type of activities occurred: games that included name that body part and blind folded genitalia-based Pictionary, individual fun facts that outed me as the world's biggest jazz hater (side fact revealed- I failed sewing- and shops- badly).  We learned that a large amount of our team have eaten placenta, play instruments, pierced their own ears and broken bones bike riding-which all seems right for some reason.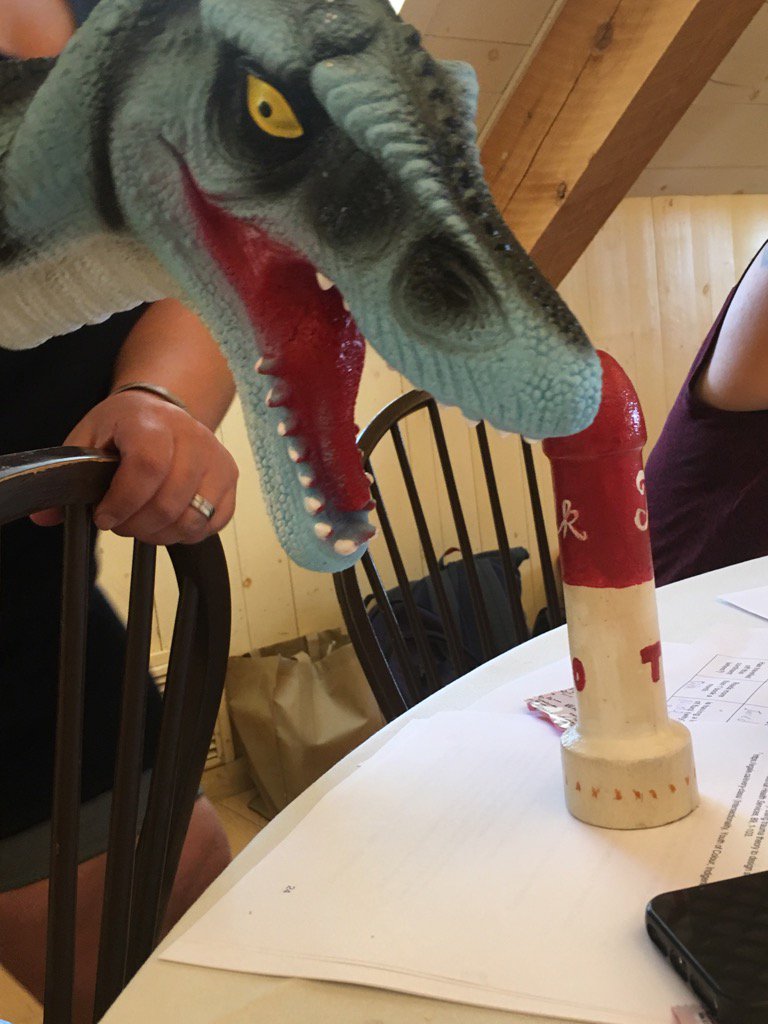 There was also an impromptu condom demonstration with a dinosaur puppet that left me to wonder if there is anywhere that our folks go without a handy Woodie for demonstration purposes packed along.
In the middle of all of this activity, our facilitator had us colour a tree with facts and traits both well-known and not about ourselves, and asked us each to then contribute to each other's trees.   Walking around the room I had a chance to look at everyone's trees, and it is that moment, combined with the background laughter of blindfolded Pictionary, it really stuck with me.  The deep gratitude and respect that these teams approach both their long term and new colleagues with, was deeply heartwarming for me and reminded me of the difference I have often experienced when working in community-based organizations.
I was also warmed by the messages on my own tree, and learned that at least one of my esteemed colleagues thinks I am perhaps weird but cool… I'll take it.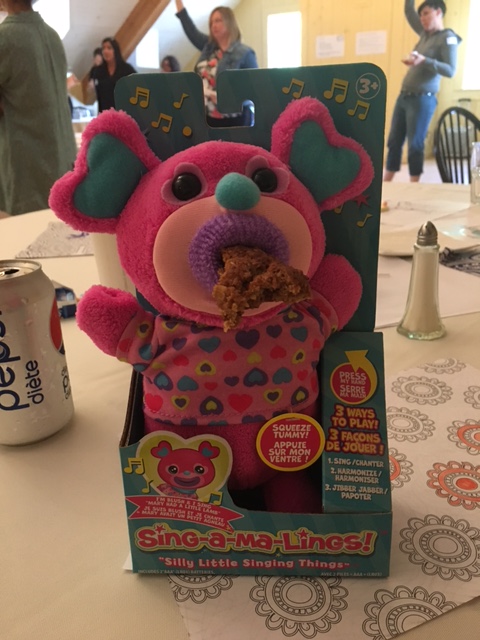 Footnote:  Also, I won this awesome / terrible prize! It is actually capable of eating my food!