I wrote a blog in June about my role as co-chair with the Canadian Association of Community Health Centres (CACHC) and the power of working together. This past week, I had the opportunity to come together once again with my community health centre (CHC) colleagues from across Canada to participate in our board meetings, AGM and national conference. You can see various proceedings from the conference online.
The conference, held in Calgary, was a great chance to see and share in all of the exceptional work happening through CHCs across Canada. I admit to being both fully riveted and often envious when I see some of the successes of our CHC family. I am particularly in awe of the work being done by the British Columbia Association of Community Health Centres (BCACHC) in partnership with CACHC, and Association of Ontario Health Centres (AOHC), to turn what had been a not great news story in BC, into an election issue and now what is starting to look like a bright new beginning for community health in BC. I believe that community health centres can, and should, be a primary care model of choice in Canada. CHCs have the ability to positively impact the health of many Canadians who may not be well served in our traditional health care system, which, as our friends at AOHC like to say and have statistically demonstrated, is 22% of the population.
Reflecting on this past week, I want to share some of the ways I see CHCs making a difference. Firstly, I am floored by how many CHCs are going mobile. They are literally providing care on the fly, and I can't help but think these are models that could make sense for us here in Manitoba. I am sure that Calgary's own The Alex CHC, which I venture to guess must be one of the largest CHCs in Canada, has a significant part of its operations on the road at any given time. This CHC has three full-time mobile units: a Community Health Bus, a Youth Health Bus and a Dental Health Bus. I was particularly enamoured with The Alex's Dental Health Bus which focuses largely on the working poor and uninsured, and the Community Health Bus which can be seen all over Calgary, including regularly being accessible to students at local high schools.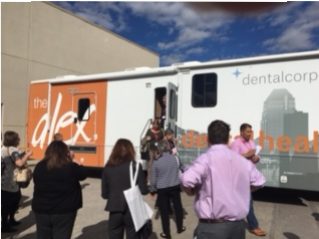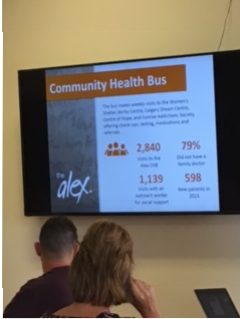 As CHCs continue to lead the way in harm reduction, we also heard about using buses to go beyond supply distribution, in some cases as actual mobile supervised injection sites. In addition, Ontario CHCs and partners are developing several models of dispersed supervised injection sites to make sure they are where people will use them.
Learning about all of these new mobile and dispersed models of service delivery continues to challenge me in my thinking of what a community health centre is and, in fact, what a community is. This is a conversation we frequently have at Klinic. We service both a geographic community and certain communities that have been marginalized in different ways, and we have several provincial programs as well. Defining who we are is a challenge that we contemplate at Klinic, but I have always thought that this isn't the worst problem to have. I think it means, that along with many of my colleagues I've mentioned, we are given to saying yes and to finding creative and innovative solutions. Yes, we want to help, yes, we want to serve and support, and yes, we want stronger healthier communities, however they are defined.