I come from settler people, a typical Franco-Manitoban blend.  My mother's family have been in this place for a long time as far as we can tell, dating back to 1600s Quebec and Acadia, and before that, France.  My father's family, where my name comes from, has been here about four generations, a mixture of Swiss and French settlers.   Like many, what I know of my family history is a mixture of records and oral information passed down.  I know that it is likely my great-grandmother was born to an Indigenous mother, but somehow ended up being raised by a local French family; the reasons for this are, not surprisingly, lost to the ages. I doubt it is a happy story.
Over the last year, the organizations that I work with have been talking a great deal about reconciliation.  What does it mean to non-Indigenous-led organizations? What is our role in providing services to Indigenous people?  How can we try to support organizations and services that do not perpetuate colonization, while living in a society and system built by settlers and thus, colonizers?
One of the moments I remember my thoughts really starting to crystalize around was the first time I saw the words of the Treaty Relations Commission: "We are all treaty people."
To me, this is the simplest, and yet most complex statement.    Every treaty had two sides, two parties who were creating a binding relationship to be honoured by all of us, all our subsequent generations.  We are all Treaty People.
This is not easy work. Talking about reconciliation and the history of colonization can mean making ourselves vulnerable, challenging our existence and paradigm, and accepting that as much as we want to do good work, our entire reality has been shaped by a history of doing harm to, and oppressing, other people.
Over the last year, SERC and Klinic have had the great opportunity to work with Ka Ni Kanichihk and their Executive Director Leslie Spillett, to try to develop a better understanding of what our roles can be in reconciliation.   Leslie has worked with SERC's Policy and Advocacy Committee, and Klinic's Social Justice Committee, to help develop our position statements on reconciliation.  SERC's position is now finalized and available here.
We have also had pointed discussions about what the action of reconciliation looks like for organizations like ours: papers are just words without actions.  This leads me to the events of this last week; on April 26th SERC and Ka Ni Kanichihk  came together to announce that we would be transferring administration of SERC's White Wolf Speaking program fully to  Ka Ni Kanichihk , an Indigenous-led organization. White Wolf Speaking is a program focused on supporting healthy sexuality in Indigenous communities.
Though SERC has always worked in close partnership with Indigenous organizations and staff to offer this program, the reality is that if we are going to really walk the walk as an organization, we have to challenge why Indigenous-focused programs would not be fully operated by Indigenous-led organizations.  This is what we hope reconciliation can look like in action; there has to be a real shift in power, it has to be meaningful, and sometimes it will need to be uncomfortable and hard.
 "Sit with the discomfort.  That burn is what you should feel- you know it's working if it's burning." (Margaret Bryant- panel member)
To launch our new partnership we held a full-day event last week, starting with a pipe ceremony between the organizations, followed by an official launch, a feast, and an afternoon session focused on reproductive justice. Here is one definition:
Reproductive justice is often talked about as women being able to decide and control whether or not to have children, women being able to decide and control whether or not to continue to end pregnancies, women being able to control how and where they give birth and women being able to raise children we do have in safe and healthy ways, free from violence. (Leslie Spillett)
We chose to use reproductive justice as a lens to talk about the transition that day, as it is a term that many Indigenous groups are using to talk about sexuality and reproductive health within the history of colonization.  At the heart of it, there are generations of children who were not raised by their own people, because they were either directly, or indirectly, not given the choice.
Our speaker for the afternoon, Holly McKenzie, is a non-Indigenous woman who has spent many years working in solidarity with Indigenous communities to study both the impact of histories, and the possibilities for the future, using a reproductive justice lens.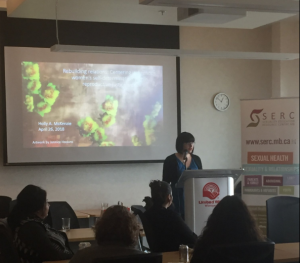 Though it is impossible to convey all of what Holly spoke to us about (I encourage you to peruse her biography below), one of the things that really stood one for me was the discussion of the risk narrative.  How we have as a society accepted and bought into the idea of Indigenous women and girls as a whole being at risk, as another form of blaming the victim and adopting a patriarchal caregiver model.  Holly highlighted that these women are fierce survivors who have adapted and continue to adapt to living in an environment that is often openly hostile.  The panel discussed many ways non-Indigenous organizations can work in solidarity, with emphasis on authenticity, understanding, and stepping outside the boxes our systems create, cultivating knowledge in our teams through partners and Indigenous members of our staff.
In this discussion, along with others I and our team members have had throughout this process, one of the things that I have become keenly aware of is the fear of mistakes, fear of saying the wrong thing, of being vulnerable to what happens next.  I have always been a person who believes firmly that if we approach things with right intention, then we may make mistakes, but ultimately it is our intentions that will be remembered.  I have benefitted from the grace and generous spirit of those who I have been lucky enough to learn from, and that is my hope for others who are walking this path.
One of my most powerful moments of the day came during the morning pipe ceremony when Elder Albert McLeod shared his own thoughts on the healing path; that in every moment, we have the opportunity to wake up to our own healing.  As a student of mindfulness, I very much believe this to be true, not just personally, but also societally.  Essentially my hope is that maybe this is the moment, and maybe we can wake up right now to a healing path, together.
If you are interested in hearing Leslie Spillett speak about partnering with Indigenous organizations, please join us for our Annual General Meeting where she will be this year's keynote.
To read more by Holly McKenzie:  http://ubc.academia.edu/HollyMcKenzie
Also- check out Jen Zoratti's awesome Winnipeg Free Press article about our event, here.