At SERC (Sexuality Education Resource Centre) we believe that everyone has the right to safe and accurate information about sex–it is embedded in our belief statements; it is a part of how we do business every day.  Every organization has values that fundamentally influence its work, whether stated formally or informally, and a critical obligation of the organization is to ensure that new members of your team are able to share your mission effectively.
That's why at both SERC and Klinic we ask all our staff to participate in LGBT2SQIA ally training in their first year of employment. Though we used to rely heavily on our partners at Rainbow Resource Centre (RRC) to provide this for us, over the past year RRC has been working with community partners to develop capacity to offer the training themselves.  We now have four trainers at Klinic and another two at SERC (one in Winnipeg and one in Brandon) who are able to do this.  In a lovely twist of fate that happens a lot in the small community that is Winnipeg, at SERC we recently hired a member of the RRC team, Jared, to work with us as a Sexuality and Reproductive Health Facilitator, specializing in training for service providers, thereby benefitting from an already very experienced ally training facilitator.
I had the opportunity to join in the ally training Jared offered to our newer SERC employees this week, and was frankly overwhelmed by what I, and I hope others, will take away from this session. Jared covered everything from definitions and terminology to the role of heterosexism and gender-based discrimination in our society.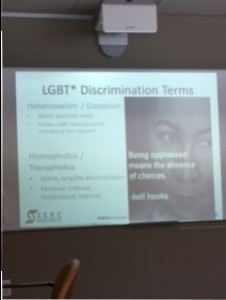 The session included a matching game to familiarize participants with the LGBT2SQIA rainbow of terms, which I think is very helpful as often folks can be confused and overwhelmed by the spectrum that exists. However, for me, it is the messages that arise out of this discussion that are most important.  Here are some of the critical messages I would like to share:
It is best to ask people what pronoun they prefer (he, she, they, etc.), it does not need to be difficult and comes easier with practice
We cannot assume gender based on appearance
Bodies are private and how bodies change is none of our business and shouldn't impact how we relate, treat or get to know others Allow space for people to self-identify. Assigning labels to others is unnecessary, even though we are curious. Terminology is often grounded in oppression and further develops as people work to challenge historical binary thinking
At its core, allyship is about a relationship.  Allyship is not self-defined: being designated an ally, by those who need support, is necessary. Allyship is about how we can use our own positions of power to help someone who may have less due to inherent imbalances in our society.
So who has the power? And who does not?  This can be very complicated and involves a concept called intersectionality; the idea that one can be in multiple categories that add or take away power, and we may have more power than others may in some areas, and less in others. For example, I am woman of European descent, in a relationship with a man.  I am likely going to have more power than a woman of Indigenous descent, and even more if she is in a relationship with another woman, based on the biases that exist in our society. However, I will not have as much perceived power as my white male partner. The challenges for me are how can I work in allyship with those who have less power, and secondly, how can I continue to challenge those who have more?
One of my favorite parts of the training was the discussions on Essentialism which is the idea that there are fundamental differences between genders that are biological, often leading to sexism and gender bias. For example, the assumption that as a woman I may not be good at math, or mechanics, but that I will be highly maternal and excellent at providing care, which I think I have gone ahead and proven untrue if any of you saw my twitter postings this week about my work plant…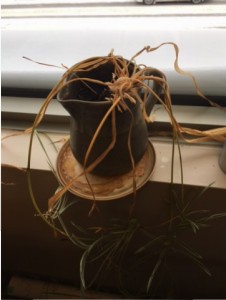 We discussed how essentialism has impacted our lives.  The reality is I could spend days on this topic, but I will not.  I know that on all sides of the gender equation we have been impacted by the inherent sexism of essentialism.  Instead I want to talk about how I ended my week.
On Friday I attended She Day 2017, an event organized by the Women's Enterprise Centre of Manitoba where (mostly) women leaders come together to network and gain inspiration.  It was my first year attending and I was gobsmacked by the amount of amazing people there (almost 1200) and the speakers, discussing everything from effective networking, overcoming gender bias and stereotypes, leadership, and how to change your story.  From the inspirational Lisa Meeches of Eagle Vision, who focused on a message of empowering other woman and raising each other up, to Grand Chief Shelia North Wilson who powerfully reminded us that the amount of women in that room was roughly equal to the amount of murdered and missing women in Canada.
What I really appreciated was the speakers that talked about our ability to change our own story, and though I did not once hear the word allyship, it was present throughout:  how we work together, empower, share power, and raise each other up.  Finally, I have possibly found a worthy resolution for 2017.
If you are thinking about how you might stand together with others in 2017 and challenge how power is often used to incite divisiveness, I encourage you to check out the local Women's March on Washington event. Both SERC and Klinic have signed on as organizations in support of this event and I think it is a great opportunity to remind the world that everyone can have a role in changing the story of power in our society.